Our Producers
O'TOOLE FARM
Tom & Beth O'Toole, Elizabeth
We are Tom & Beth O'Toole from Elizabeth, IL. Our farm is in the beautiful setting of rolling hills and valleys, open pasture, creeks, and woodlots. We do not raise row or grain crops, do not use pesticides or herbicides, and we rotate our small herd of beef cows and calves through grass pastures. We cut and bale grass hay to feed through the winter. We do not use insecticides. We do not feed antibiotics or use hormones. Our laying hen flock have free range in the pasture during the day and at night are protected from predators in a chicken house that we move behind the cows through the pastures. The hens help to control fly population by feasting on the larvae found in the cow patties. The by-product of the hens work in the pasture are eggs, more than we can consume! We feed the chickens a purchased organic feed, with no antibiotics.
THRIVING THISTLE MARKET
Apple River
Supporting our community is our passion, and you'll see that when you step in the door at our gas station, our bistro, or our wellness center. At our gas station, you'll find your necessary conveniences alongside products from local vendors. At our bistro, you'll find people who are passionate about creating delicious food from high-quality, locally sourced ingredients. At our wellness center, our team will provide support, care, knowledge, and tools for a lifetime of wellness.
SULCANNA CO
Hanover
Situated in a historic woolen mill overlooking the Apple River, our state of the art production facility houses indoor and outdoor grow areas, a tissue culture lab, extraction and distillation labs for oil production, and commercial kitchen and packaging spaces for creation of final products. All of our CBD is sourced from a cooperative of craft hemp growers, who have invested their time and effort to providing a safe, quality product for our consumers. Sulcanna Co is dedicated to offering a selection of products that meet the high standards and varied needs of our customers. Each of our products is formulated to the highest standards and lab-tested for safety and potency. Importantly, we are able to trace the provenance of all CBD used in our products back to the cooperative member farm of origin.
ROLLING STOP FARMS
I'm Brandon Diddens, and for the past 20 years I have been working as a design engineer. In 2017, I moved back to the area where I was raised to be closer to family, live in the country, and create a small business to call my own. This is how Rolling Stop Farms came to fruition. Rolling Stop Farms cultivates gourmet mushrooms in southern Wisconsin. We're focused on producing fresh mushrooms year round for the tri-state area. Mushrooms are cultivated indoors in a climate controlled grow room and clean room lab with HEPA filtered air to ensure highest quality product.
PLEASANT VALLEY ENTERPRISES
Michael Wasson & Connie Pladson, Elizabeth
Our family farm is located in a quiet valley in rural Elizabeth. Connie has spent most of her life raising animals on the farm, and although Mike is a Galena native, he's spent most of his adult years as a boat captain and custom woodworker in Alaska. Last year, we decided to venture into pheasant farming, and we have also expanded our chicken and quail flocks. Our pheasants are raised in a large flight pen, laying hens are allowed to free range daily (weather permitting), and quail are kept in habitat-enriched coops. We're also fortunate enough to have several hives of honeybees, which help to pollinate all of our fruit trees and berry bushes.
MAPLE LEAF ACRES
Polhill Family, Stockton
We are a small family owned business with 100% organically grown garlic. We love spending time outdoors and enjoy family time on our small farmstead. So we began growing garlic as a hobby, but our crop has doubled in size and is much more than a hobby! At Maple Leaf Acres we value our customers; therefore we grow our garlic without the use of any chemicals to safely produce only the best quality products. Contact us anytime if you have any questions. We look forward to hearing from you!
info@mapleleafacres.com
KINGS HILL FARM
Oudman family, Mineral Point, WI
Kings Hill Farm is a certified organic vegetable farm located in the beautiful rolling hills of the Driftless Region just south of Mineral Point, Wisconsin. We serve both Southern Wisconsin and the greater Chicago area with high quality, fresh vegetables through our CSA, as well as offering a range of products for restaurants and grocers that support local foods. Our farming practices integrate diversified vegetables with cover cropping strategies that promote healthy soils and bountiful produce. We encourage natural prairie and forested eco-systems to take shape in areas where vegetables aren't grown.

JEAN'S COUNTRY PRODUCE
Dennis & Jean Story, Scales Mound
Jean and I moved out here 23 years ago with 3 of our 5 kids. Our middle daughter Annettee lives in Scales Mound with her 2 kids. The rest all live in the Northern Chicago suburbs. Jean and I have been selling food for the past 4 or 5 years. We have a large garden where we grow a little bit of everything, and Jean likes to bake.
HOLLIBERRI ICELANDICS
Marks family, Elizabeth
Holliberri Icelandics is a family owned and operated farm located outside Elizabeth, Illinois. We specialize in pure bred Icelandic sheep with an emphasis in superior breeding stock genetics, quality all-natural meat, and soft luxurious wool great for knitting, crocheting, and felting.
HERMES POPCORN
Hermes family, Stockton
Hermes Popcorn was started to help us support our family and our children's future. We wanted to work together doing something that we were passionate about. We are teaching our children that with hard work, they can achieve any dreams they have. They all work and save money for their college savings and future. We love working together and serving the community. We hope to become a tradition for many families and generations to come! Grown right here in Northwestern Illinois, we proudly serve you our very best Non-Gmo Popcorn in several varieties, using as many local ingredients as possible. Thank you for your support!

HAZZARD FREE FARM GRAINS
Andrea Hazzard, Pecatonica
Hazzard Free Farm grows and mills ancient heirloom grains that are chemical-free, non-GMO, unbleached, unbromated, and stoneground.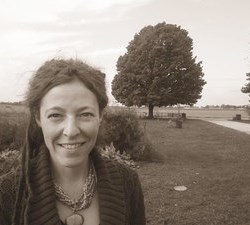 HAMMERAND FARM
Hammerand family, Fennimore, WI
Our family has been in direct marketing for over a hundred years. We raise all kinds of fresh vegetables in the summer. In winter we have poratoes, squash, carrots, onions, cabbage, and more. We farm using organic practices, and our canned goods and baked goods use local, organic ingredients. We appreciate the opportunity to bring you good food!

GRETTA'S GOATS
Gretta Winkelbauer, Pecatonica
Gretta's mini dairy goats are milked seasonally twice daily and are grazed on organic pasture at Farwell Bridge Farm outside Pecatonica. Nestled on a prairie hilltop, the abundance of wildflowers, prairie grasses, and wildlife provide the inspiration for the natural artisan soap and the small batch goat milk cheese in their certified creamery. The soap is made with moisturizing farm fresh goat milk, locally grown fresh farm herbs, organic vegetable and essential oils, and it is carefully crafted utilizing the cold-process method of soap making.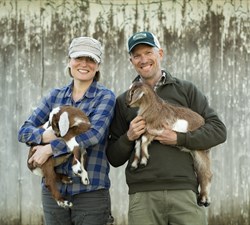 FIELDVIEW FARM
Amy Dehn, Woodbine
The Dehn family has lived on their farm just north of Woodbine for eighteen years. Seven years ago, they got serious about growing berries. Eventually, they branched out to vegetables, flowers, herbs, animals, and a farm shop with homemade goodies. Their growing practices are organic, sustainable, and biodynamic. They use heirloom seeds and raise a heritage poultry flock. They are currently vendors at the farmers' markets in Elizabeth, Galena, and Galena Territory.
ELLIPSIS ARTS
Larissa Distler, Galena
Larissa is a Galena librarian by day and an entrepreneur by night (and any other time she can find). She grew up in the foothills of the Appalachian Mountains and descends from a long line of women who can't sit still. Her creative business, Ellipsis Arts and Crafts, takes many different forms but mainly focuses homemade jams, jellies, baked goods, and chocolates as well as hand knit/crocheted/felted items including scarves, hats, and art pieces. You can find her wares at EllipsisBooksandMore.com (yes she deals in antiquarian books too) or at the Galena Marketplace. She has been known to teach classes at the Galena Center for the Arts.
DEERLAND DAIRY
Graybill Family
Deerland Dairy is a small family dairy farm and dairy processing plant located in rural Freeport, IL. We milk a small herd of grass-fed Jersey cows and use the milk to produce our yogurt. Our yogurt is pasteurized but non-homogenized, which results in a layer of cream that has risen to the top. Check us out online at DeerlandDairy.com to learn more about our farm, our family, and our products.

DEB'S DAILY GRIND
Debra & Dean Tillis, Stockton
Dean & Debra Tillis have been in the specialty gourmet coffee & tea business for the past 22 years. Many of you may remember Debra as the owner of Yesteryear's Gift Emporium in downtown Stockton for 10 years, where their coffee and tea business started. In addition to their large selection of freshly roasted coffee beans and loose leaf teas, they have a custom coffee & espresso trailer. They offer their coffee service in Iowa & Illinois for special events, fundraising, weddings, and markets. Flavored food extracts are added at the end of the roasting time when the coffee beans are hot and porous, so flavor is absorbed perfectly. This results in a delicious product that is free of calories, sugar, and carbs.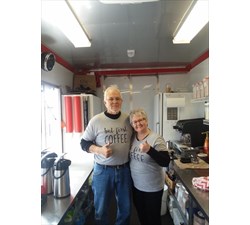 DAN D BEES
Dan & Amy Dumler, Dubuque
Dan D Bees started with 16 colonies in West Central Wisconsin way back in 2007. Since then it's been a roller coaster ride of getting up to just over 70 colonies for a high point (2012), down to 6 colonies for a low point (2017). Last winter we had a 100% survival rate, so we entered this year with strong colonies. After making spring splits we are back to around 20 colonies of honey bees which is a good amount to keep for us. I've been fortunate enough to work several years with Gordon Waller, a Wisconsin state bee inspector, and many other beekeeping friends. In 2013 we relocated to Benton, Wisconsin, and finally moved to Dubuque, Iowa in 2018. Honeybees and honey sales has been a challenging, but rewarding sideline business for us for many years, and we are looking forward to more years with these Dan D Bees.

CLARA JOYCE FLOWERS
Drew Groezinger, Stockton
Nestled in the rolling hills of the Driftless region, in scenic Jo Daviess County, Clara Joyce Flowers is a speciality cut flower farm focusing on high quality blooms and foliage production for the wedding, consumer, and wholesale floral industry. Drew Groezinger and his team at Clara Joyce Flowers grow perennial and annual cuts in their nine acre flower field, as well as in greenhouses for year round production. Clara Joyce Flowers is also in the process of launching a new home and body care product line!
CHRIST IN THE WILDERNESS
Julia Bathon, Stockton
Christ in the Wilderness is a spiritual retreat located in the countryside south of Stockton. Proceeds from Julia's baking go towards supporting the efforts of CITW.

CHESTNUT CLIFF FARM
Margaret & Trale Bardell, Freeport, IL
Chestnut Cliff Farm aims to raise the highest quality certified organic produce, maple syrup, free-range eggs, grass-fed beef, pasture raised pork, herbs, foraged foods, fermented foods, unique cut flowers, and more! We are slowly converting to no-till, regenerative methods because we believe in biology and the preservation of all life. Here on the Jo Daviess Local Foods site we only have our maple syrup - but contact the farm directly if you'd like to visit or arrange a meat, ferment, or veg purchase. We are located just 3 miles east of Freeport, Illinois.

CENTER HILL ORCHARD
John & Catherine Pokropinski, Mount Carroll
We are located in the middle of Carroll County. Following organic practices, we grow and provide fresh fruit and related products. Our small orchard grows cherries, peaches, pears, apples , and a selection of berries. From some of this fresh fruit we create jams and jelly so our customers can enjoy what we grow throughout most of the year. Learn more about us at centerhillorchard.com.
BLUE BARREL PRODUCE
Kennedy & Kristen Conley, Kieler, WI
Blue Barrel Produce is in operation at the Sinsinawa Mound Collaborative Farm, Sinsinawa, WI, and is Certified Organic. In their quest to get their family back to their own farm, Kennedy and Kristen Conley started their operation two years ago. Currently, their products are featured in restaurants and Hy-Vee grocery stores in Dubuque. They also sell direct-to-consumer from the farm, from their home in Kieler, and also at Dubuque Farmers' Market. They feed you what they feed their family.
ARNOLD'S FARM
Tom Arnold, Elizabeth
Arnold's Farm is an environmentally friendly 4th & 5th generation family farm raising pork, grain- and grass-finished beef, and pastured chicken and turkey near Elizabeth in beautiful Jo Daviess County. A pasture-based system is used in which no antibiotics, growth hormones, or animal by-products are given or fed. We market meats from our animals directly to health conscience consumers through farmers markets, a delivery service, and an on-farm retail outlet. Individual cuts, quantity packages, and sides/whole animals are available. For more information about the farm, contact Tom...
www.arnoldsfarm.com; tom@arnoldsfarm.com; 815-858-2407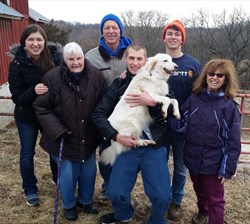 ACROAMA BLENDS
AcroAma seasoning blends are designed and hand crafted by Chef Stephen Dowe, formerly of the award-winning Perry Street Brasserie in Galena, IL, whose imaginative international menus have been enjoyed by The Beatles, European royalty, movie and sports personalities, and tens of thousands of patrons worldwide. All varieties are produced from organic non-irradiated ingredients, and are completely free of GMO's, artificial ingredients, fillers, and anti-caking agents.